Over 90% of web pages get no organic search traffic from Google.
While they may provide accurate information, the pages are dead because they lack valuable content, SEO optimization, or both. Combining page optimization for search engines with consistent content marketing efforts can save your web pages from winding up in the Internet graveyard. Additionally, distributing valuable content to your target audience is a great way to boost sales and brand awareness.
What Is the Purpose of Content Marketing?
The purpose of a successful content marketing program is to increase customer engagement and retention. If you regularly create high-quality content that your audience cares about, they'll often reward this by becoming a customer.
How Does an Online Content Marketing Campaign Work with SEO (Search Engine Optimization)?
The exclusive purpose of SEO and Local SEO is to bring potential customers to your website. Without SEO, even if you have the best content around, no one will be able to find it. In other words, your SEO helps customers find your site (from search engines like Google), but your content marketing strategy is what keeps them there. You need SEO as well as consistent high-quality content to create a successful content marketing program.
With the right blend of SEO and a quality content marketing strategy, you can achieve the five points needed for success:
Traffic (Getting your target audience to visit your site)
Engagement (Piquing their interest with valuable content)
Retention (Keeping their interest with consistent content)
Sales (Leading visitors to profitable customer action)
Referrals (Turning your customers into your brand ambassadors)
Content Marketing Pro Tip: Good SEO will only help with step one. The rest requires a solid content marketing strategy.


How to Create Quality Long-Form Content (from a Content Marketing & SEO Perspective)
Start with some research:
You don't want to waste time creating content people don't need, so you want to be sure to check three things before choosing a topic to create long-form content for.
Search Volume
Keyword Difficulty
Search Intent
Search Volume: To be able to reach the most people, you'll want to choose a topic that has a high volume of searches. Use an online tool like Ahrefs' "Keywords Explorer," or the Chrome extension "Keyword Surfer" to check how many people are searching for your intended topic.
Keyword Difficulty: Ahrefs can also provide insights into the quality and abundance of the existing content on your topic. If you find that there is already a large amount of quality content for your subject, you'll probably be better off finding another topic instead.
Search Intent: Let's say you're a jeweler, and want your content to be found when people search Google for "how to choose a wedding band." You'll have a hard time getting customers from this search query if the top results are all about hiring wedding musicians instead of buying rings. This is why it's important to check for ambiguity in the results page. To further ensure that your content will be appropriate, check the type of results for your query. If the majority of search results are videos, then a text-driven blog post would likely go to waste.
Once you've chosen a topic:
Review the top 3-5 top-ranking pages about your topic. These are the top-performing pages, so you'll want similar information in your article, but you don't want to write the exact same stuff.
Before you decide how to approach the article, check pages 2-5 of the search results. The quality of information found on non-ranking pages is often still good, but it doesn't rank because it's improperly optimized. (Similarly, the top pages might have uninspiring content on the whole but ranks well due to good optimization.)
Check Quora, Reddit, and Facebook Groups as well as search Google for "_____ data", "_____ statistics", and "_____ trends" (insert your keyword in the blanks). You're ultimately looking for a new way to frame the same content to create a fresh and inspiring article.
Creating Entity Clouds of Supporting Keywords
Once you've chosen a topic that will make for engaging content, we need to make sure it'll be found. One great way to do so is the use of entities. Entities are supporting keywords that help Google better understand what your content is about.
You want to create an entity cloud (a list of words and phrases that Google already identifies as being related to your parent topic) and incorporate as many of these as possible into your long-form content.
Start by brainstorming and create a list of words and phrases you think are directly correlated to your topic, then search Google for them. If you find that they have decidedly different search results from results for your primary topic, they likely aren't part of the same cluster. If they produce the intended results, you can again use the Keyword Surfer extension to find lists of even more related keywords.
Another trick is to use Ahrefs' "Keywords Explorer." Enter your primary keyword and a supporting keyword then click "traffic share by pages." If the top ten pages don't share both keywords, they aren't part of the same cluster.
Make an "Entity Cloud" list of these supporting keywords. Later, when you write your content, you'll pepper them throughout your text in both header tags and in body text. By doing so, you'll be distributing valuable clues to Google that they can use to understand and rank your content.
Make an Outline Before Your Create Content
Create an outline for your content, including a list of ideal supporting keywords, subheadings, and word count. One trick for finding subheadings is to search Google for your primary keyword and create subheadings from Google's "Related Searches" or "People Also Ask" sections.
Some common content structures include:
What, Why, How Articles start with a headline, then describe what something is, then why it matters, then how it works.
Person, Problem, Solution Articles start with a headline, then identify a clearly defined audience, then a problem this clearly defined audience has, then presents a solution to that problem.
Pros, Cons, Action Articles start with a headline, the identifies the pros of your product or idea, then the cons of the same, then detail your recommended action or actions.
Fact / Opinion Articles start with a headline, move to the facts, then write your opinions about those facts. Don't mix your facts and opinions.
Content Marketers Pro Tip: As a strategic marketing approach, you can get even more use from your long-form content later, by breaking up sections of it into much smaller consumable chunks for use on other platforms like social media platforms or newsletters. This goes for articles as well as video content.
How to Structure a Blog Post
If you have a strategic marketing approach focused on your blog, then you need to create a blog structure.
By default, most blogs are organized chronologically with the newest articles on the top of the page. Instead, content should be organized intelligently, and in a way that's more natural to the reader.
Choose your blog categories wisely. If articles are about the same topic, make sure they are grouped together by category – but also in the page design. If articles are sequential, make sure they are listed that way on the page. Be sure to include internal links to related (not recent) posts.
Creating Content
Use H tags properly. The H1 tag is your primary keyword. H2 tags are sub-headlines backing up your primary keyword. H3 tags are sub-headlines backing up your H2 tags. H3 Tags are sub-headlines backing up your H3 tags, etc.
Every article should begin with a post title (H1 tag). This should be followed by a paragraph of introductory text designed to hook the reader, making them want to read the content that will follow.
Put your most important information first. When possible, answer the search query in the first paragraph. If the answer is too complicated, briefly explain why, and let the reader know when in your article their question will be answered. You want to satisfy their search intent immediately to prevent them from bouncing to another site. It's also good practice to end your intro with a call to action.
Content Marketing Pro Tip: If your article is longer than 600 words or so, or if you have six or more sub-headlines, you might even create a "Table of Contents" in your intro. It helps visitors anticipate what to expect and helps them navigate your blog post. 
Once you've completed your first draft, it's important to consider SEO marketing strategy as well. If no one finds your website, your content marketing tactics won't matter.
Check On-Page SEO
Is the word count where it needs to be?
Is the keyword density appropriate?
Are there enough variations of your keyword?
Are you using the proper entities / LSI keywords?
Are the links you've used all in the same topic cluster?
Is there a link to your call to action, product, or next step?
Are there variations in your anchor text?
SEO Checklist
Target keyword is in the URL.
Target keyword is in the page title.
Target keyword is in Meta Description.
Meta Description has a CTA.
Target keyword is in the H1 tag.
There is only one H1 tag.
Target keyword is in the first paragraph.
H2 and H3 tags are placed properly & contextually support their hierarchy.
H2 and H3 tags include supporting keywords.
Content includes internal links to matching Pillar/Hub/Category page.
Content includes internal links to related articles.
Content is unique and interesting to read.
Page concludes with a call to action.
Page includes 2-3 types of rich content and at least one image.
Schema markup has been added to appropriate content.
Content Marketing Pro Tip: If the SEO guide below above was confusing, don't worry - you're not alone. Some of these terms are gibberish to all but a marketing insider group. The good news is, there's an app for that. SurferSEO is a tool that reads your content and makes SEO suggestions to greatly increase your content quality and your chances for high rankings.
Other Equally Important SEO Tips
Don't stuff your webpage with keywords at the expense of readability or design.
Don't create large, daunting walls of text. Break your content into easily consumable chunks.
Don't write your content for Google - it will have an adverse effect. Write for people.
Add "rich content." Humanize and enrich your article by adding 2-3 examples, personal stores, quotes, images, videos, sources, or links to industry blogs and influencers.
Content Marketing Pro Tip: If you quote someone in your content, or mention them in your video content, shoot them an email to let them know. They may feature it in their social media platforms.
Bonus Content Marketing Pro Tip: If your article is longer than 600 words or so, or if you have six or more sub-headlines, create a "Table Of Contents" in your intro.
How to Write an Effective Call to Action
What Makes a Good Call to Action?
Have one clearly defined action you want the visitor to do.
It's important to relate your call to action (or CTA) to the on-page content. For example, if the target keyword is "What is content marketing?" then a good call to action might ask the customer to download a free e-book that explains content marketing.
A bad call to action would ask the customer to download a free e-book about building brand awareness. The target audience of your article doesn't know what content marketing is, and therefore wants broad stroke information, not hyper-specific information.
The CTA should directly relate to the customer's search intent.
Content Marketing Pro Tip: One common mistake is writing your CTA to convert the visitor to a customer or drive profitable customer action. This is not the purpose of the CTA! Its only purpose is to entice the reader to click the link. The link's landing page is responsible for the actual conversion. More often than not, "Learn More" is a more reasonable ask of the reader than "Buy Now."
How to Write An Effective Call to Action for Your Website or Blog Post
First, you'll need to determine which stage of the process your visitor will be in. There are four stages:
Stage One Visitors: The visitor is aware that they have a problem, but doesn't know their options for fixing it. For example, a business owner needs their online store to make more sales. They might search Google for: "how to increase online sales" or "how do I get more new customers to my website?" or "What is the most effective method of online marketing?"
Stage Two Visitors: The visitor has done some research, learned what potential solutions are out there, and wants more information about a specific option. For example, the business owner from above has read an article about how to increase their online sales and learned that content marketing can help bring traffic their way. They might search Google for: "What is content marketing?" "Why content marketing?" or "Does content marketing really work?"
Stage Three Visitors: The visitor has chosen to move forward with a specific solution to their problem and is ready to choose a provider. For example, the business owner read more about content marketing and realized that content marketing strategies have proven to be highly effective for businesses like theirs. They're ready to try it, but want to choose the right content marketing institute to handle their content marketing efforts. They might search Google for: "Which is the best content marketing company?" "Video content marketing companies near me," or "Content marketers for hire for online business."
Stage Four Visitors: The visitor is either a returning customer, a customer referral, or has shopped around and decided you're their best option. They are ready to buy (or whatever profitable customer action you offer).
Your first goal is to identify the stage of visitors that your article is intended for and use the call to action to gently lead them to the next stage in the buying process.
Stage one visitors should be brought to a page where their options are explained, and the call to action leads them to more information about a specific solution. For example: "Learn More About Content Marketing," or "Click Here For Content Marketing Examples."
Stage two visitors should be brought to a page where they learn more about the solution (product or service), and the call to action leads them to more information about your brand of this solution (product or service). For example: "Why choose Nimbus Marketing for your content marketing campaign?" or "Learn How Nimbus Can Help With Your Content Marketing Strategy."
Stage three visitors should be brought to a page where they learn why you are the best option to provide the solution, product, or service that they need. The call to action should lead them to the specific (solution, product, or service) page where they can make the purchase (or drive profitable customer action of your choice).
Stage four visitors are finally ready for a commitment. The call to action can finally be something like: "Buy Now," "Subscribe Here," or "Get Started Today." Asking for this type of commitment at any stage prior to this will inevitably fail to convert.
Where Should I Put My Call to Action?
Yes, placement matters.
Generally speaking, you should place a CTA at the end of the first paragraph (after you've provided value) and again at the end of the page. If the page is very long, you may include one in the middle.
All these CTAs should all be the same.
Content Marketing Pro Tip 1: Make sure that you pay attention to the difference between mobile and desktop layouts.
Content Marketing Pro Tip 2: Don't forget that a CTA can be in-line text. Readers are often banner-blind – having trained their brains to ignore ads. In-line text can just as easily grab the attention of engaged visitors.
Content Marketing Pro Tip 3: Don't put your CTA in the sidebar, readers rarely take action from sidebars.
Content Marketing Pro Tip 4: Choose CTA button colors that stand out and look enticing. Color code your buttons in accordance with their actions, for example, a red button to schedule a consultation and a blue button to sign up for your newsletter. Keep this consistent throughout your website.
Content Marketing Pro Tip 5: Use customer language, not industry terms in your CTA headline.
Content Marketing Pro Tip 6: If your CTA leads the customer to a "Thank You" page, such as is often the case with newsletter sign-ups, be sure to use the thank you page as a sales page as well. A customer that has clicked your CTA is primed for actions and offers provided on thank you pages have a high conversion. For example, "Thank you for signing up! Use coupon code THANKS to save 10% on your order today."
Steal the Featured Snippet with This Content Marketing Strategy
Check back on your article (page or video content) after six months. If it ranks on page one, run an Ahrefs keyword ranking report.
Search Google for any keywords ranking in the top ten and check for a featured snippet. If they have one, note the type (definition, steps, bullets, etc.). In the intro of your article, create content that's similar in order to potentially win this featured snippet.
Content Marketing Pro Tip: It helps to match your content to the existing snippet type.
Content Marketing Strategies May Require Follow Up Attention
If it doesn't rank on page one, to get it out of the web page graveyard, consider swapping out your supporting keywords with different ones from your entity cloud, or try changing up your first paragraph. These content strategy changes may very well help your page rank on page one.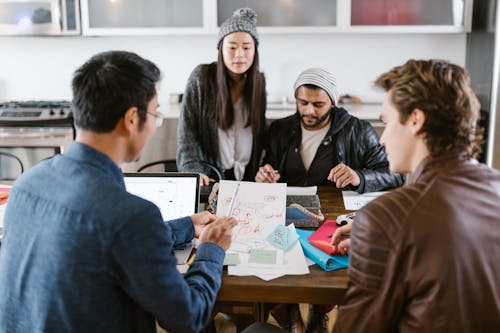 Our Professional Content Marketing Team
If you'd like to learn more about the content marketing options that Nimbus Marketing provides, we'd be happy to share reviews from our existing customers and answer any questions you have. Schedule A Free Phone Consultation with a content marketing expert to discuss your goals and see if we're a good match.